Patricia J. (Trish) Jordan, M.A., Ph.D.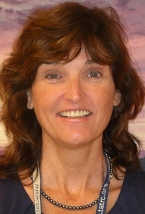 Dr. Jordan is a research methodologist and grant writer for the Pacific Telehealth & Technology Hui, and an adjunct assistant professor with the Department of Public Health Studies and Epidemiology at the University of Hawai`i at Mānoa. Dr. Jordan has published in the behavior areas of eating disorders, physical activity/exercise, smoking cessation, women's health, and biosensors. She also has experience with intervention development, web-based data collection, and has pioneered measurement development work in the area of eating disorders by applying the TTM to both anorexia and bulimia. Dr. Jordan has experience handling large data sets, and is proficient in a variety of analyses, including structural equation modeling and factorial invariance.
Dr. Jordan holds a Ph.D. in experimental psychology from the University of Rhode Island. She trained at the Cancer Prevention Research Center in Kingston, RI with Dr. James Prochaska, originator of the Transtheoretical Model of Behavior Change.