Sachdev P. Thomas, M.D.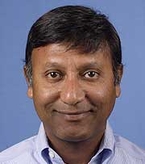 Dr. Thomas is Associate Chief of Staff for Research & Development and Chief of Hematology/Oncology at the VA Central California Health Care System (VACCHCS) in Fresno. He is a principal investigator on clinical trials in oncology including acute myeloid leukemia and small cell lung cancer. His clinical and research interests include lung and other thoracic cancers, endocrine cancers and lymphoma. Dr. Thomas is the Associate Program Director for the Hematology/Oncology Fellowship Program and Health Sciences Assistant Clinical Professor at the University of California, San Francisco-Fresno.
Dr. Thomas completed basic medical training at St. John's Medical College in Bangalore, India. His internship in medicine was completed at Finch University of Health Sciences/Chicago Medical School. This was followed by his residency training in internal medicine at Loyola University Chicago, where he also completed his post-doctoral fellowship in medical oncology and hematology. He is board certified in hematology, internal medicine and medical oncology.